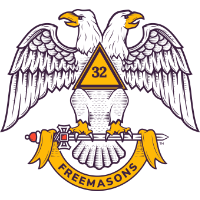 Please share this event with your Scottish Rite and other Masonic Brethren!
Our monthly stated membership meeting will be held at 7:00 PM in the Scottish Rite Cathedral Theater (2nd floor). Don't forget to bring your membership card for check-in.
The Double Eagle Café will open for dinner at 5:30 PM.
The 19th Degree, Brothers of the Trail, will be presented following the business meeting.
If you would like to become a member of the Scottish Rite, please join us this evening! Please note that in order to become a Scottish Rite Mason, you must be a Master Mason in good standing. Petitions may be obtained from any Valley officer prior to the meeting (look for the members in gold hats). We will confer the 4th Degree at 6PM at every stated meeting for any petitioners and this will make you a Scottish Rite Mason immediately (but please come back to witness the other 28 degrees of the Scottish Rite at our Stated Meetings and at our Convocation and Reunion in November!).
We look forward to seeing you all!